Watch Brett Hazlett's latest eye candy and look closely: you see he flys a Volirium P1!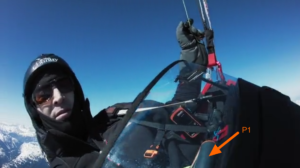 He tested the P1 vario at the PWC in Brazil:
"I love this thing! Using a mostly language independent icon based interface I can program tasks significantly faster, with fewer errors, and easier checking. In the high intensity moments of a World Cup gaggle, when my attention is already overwhelmed, the P1 gives me reliable information, instantly, in all sunlight conditions."
Ceck out his review on facebook
Flybubble Review
The UK paragliding dealer, famous for its gear tests and flying tips on youtube, wrote an article and made a video about the P1 vario:
"Given the 'ease of use' brief they have used in developing the P1, we expect it will help pilots focus on their environment, rather than the electronics. After all, this is what Volirium means: 'The state of mind achieved when fully immersed in the act of flying'.
Overall the P1 currently does what it fundamentally needs to do for general recreational and XC flying
Big scores are for the screen, the Wi-Fi, the 'no need for PC' to get it all set up."
read more on their website
https://flybubble.com/blog/volirium-p1-smart-vario